We've Met with Business Owners to Discuss Commercial Door Access Needs.
In response to those needs, we've created solutions specifically for you. LiftMaster® understands there are times when you need to provide access to your business that are not convenient for you. Imagine being able to open and close your commercial door for a cleaning crew or your own employees requiring access afterhours, allowing you to enjoy dinner with your family.
Stay Connected and In Control of Your Door No Matter Where You Are.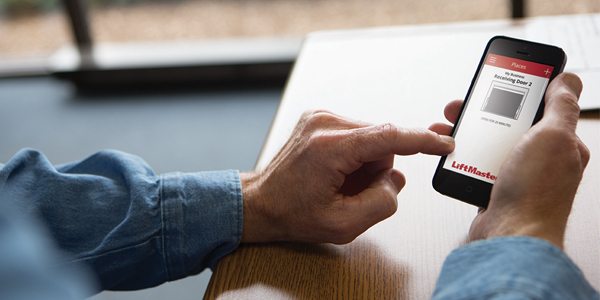 Exclusive Technology

MyQ® provides revolutionary technology only found in LiftMaster Logic 5.0 Commercial Door Operators.

Easy Setup

Connect easily to the Internet via your current business network.

MyQ Mobile App

Download the FREE MyQ Mobile App and easily register your account at MyLiftMaster.com.
Enables secure monitoring and control of the operator with a smartphone, tablet or computer.
Alerts can be received as email or pop-up (push) notifications on a mobile device, ensuring the status of your mobile device.

No fees

Requires no annual activation fee.
Whether You Need Trolley or Hoist Operators, We Offer Innovative Industry-Proven Solutions.
View our entire commercial garage door opener collection here.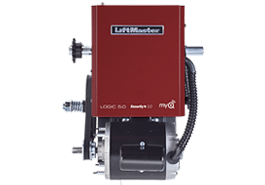 Jackshaft (J) Style Operator
Optimal for industrial applications. Doors used with this operator should be balanced with the ability to be manually lifted in an emergency or power outage.
—————————————————————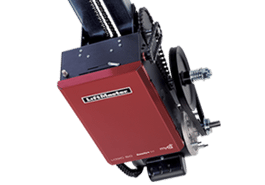 Trolley (T) Style Operator
Optimal for general industrial applications with sectional overhead doors.
—————————————————————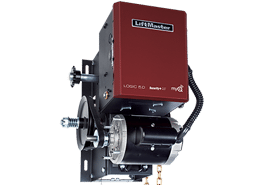 Hoist (H) Style Operator
Optimal for industrial applications, Hoist Operators include a floor level chain hoist to ease manual operation in an emergency or power outage.
—————————————————————
LiftMaster Operators Come Standard with These Advanced Features:
MyQ Technology:
Provides revolutionary technology only found in LiftMaster Commercial Door Operators.
Enables Secure Monitoring and control of the operator with a smartphone, tablet or computer.
Each Internet Gateway device (828LM) can manage up to 16 operators or devices. Multiple Internet gateways may be installed to accommodate additional commercial devices.
Built-in Security+ 2.0® Radio Receiver:
Provides industry leading technology only found in LiftMaster Commercial Door Operators.
Increased security – with every click, a new code is sent to the Commercial Door Operator ensuring the door opens only for the individual pressing the remote.
Enhanced radio communicates with tri-band frequency to improve range and reduce interference – assuring the door opens, stops and closes conveniently and reliably every time.
Timer-to-Close:
Provides functionality for the operator to automatically close the door as soon as the vehicles are clear, eliminating the potential for theft and damage, keeping your business secure while you're away.
Maintenance Alert System:
Provides reminder to contact your LiftMaster Dealer for routine maintenance.
System can be set to alert upon a calendar date or after a selected number of operator cycles.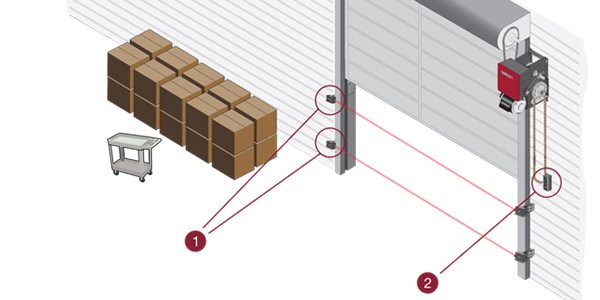 1. Safety Sensors
Stop the door from closing if an obstruction is detected, protecting personnel, vehicles, aerial ladders and other high apparatus obstructions.
2. 3-Button Station with Maintenance Alert System
Lets you open, close and stop the door quickly. An indicator light lets you know when it's time for routine maintenance.

Why Automate Your Commercial Doors?
Assures commercial doors cannot be manually opened from the outside by someone trying to gain access to commit theft.
Increases the life expectancy of the door and reduces service costs associated with ensuring proper operation of commercial doors. Commercial door operators open and close doors in a controlled manner eliminating the potential for doors to raise too quickly or slam when being closed.
Reduces the opportunity for a soft tissue injury to occur when opening or closing a commercial door manually, preventing workplace injury claims, loss of time and potential increased insurance premiums.
LiftMaster's Business Solutions are integrated packages, assuring seamless integration of a motorized commercial door system. The combination of advanced technology, features and accessories provided by LiftMaster, simplifies the process of determining the best solution to meet the needs of your business.